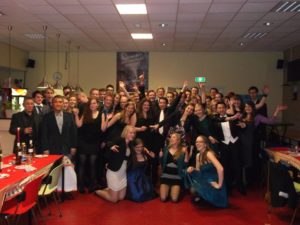 Beste (oud) DIOKker,
we would like to remind you of the upcoming traditional christmasdinner, taking place at the 15th december at the Speeltuin 't Stadveld. And we would like to see you there, so if you have not signed up till now this is your chance because we will close the subscription next saturday at the 8th december. To sign up, please send an email to the event committee in which you should also state your preferred drink (beer/wine/soda) and if you have any allergies or diets. To sum up, the christmasdinner in short:
When: 15 th december 18:30
Where: Speeltuin 't Stadveld, Plataanstraat 50 in Enschede
What to bring: Nothing besides appetite and good mood
We are looking forward to hear from you and see you at the christmasdinner in your nice suit or dress.
EC 2017-2018