20 September 2019

-

22 September 2019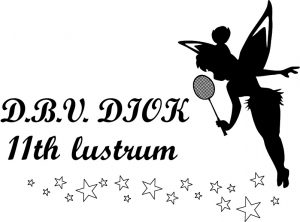 Dear (former) DIOKmember,
On the 22nd of September, our beloved association will turn 55! To celebrate this 11th lustrum, we are working hard to organize a special lustrum weekend from 20th-22nd of September. On Friday night the 20th of September, we will kick off the weekend with a nice dinner and we will test your general knowledge (and knowledge about DIOK) with a pub quiz. On Saturday we will organize a badminton tournament, followed by dinner in the Sports Centre, and party in the VestingBar until the early hours. On Sunday morning we will have a special walk around campus to shake off our hangover. During this hike, you can already practice your aiming skills for the afternoon. After the hike, we, of course, will have some nice food with a brunch, warming us up for a sportive afternoon activity.
Now that you are super duper mega unbelievably excited for the weekend that you're pooping glitter, you may sign up via this link: https://forms.gle/mmT788VsH6TxfciC9
Registration will close at 07.09.2019
But that's not all… If you want to have your own super awesome lustrum T-shirt during the lustrum weekend, you need to register before 30.08.2019. All T-shirt sign-ups after this date will be ordered right after the registration deadline.
We hope to celebrate DIOK's 55th birthday with you all in the weekend of 20th-22nd of September!
Already signed up:
Ling
Xing
Koppik
Kira
Bas
de Ronde
van der Zwaan
Dennis
de Jonge
Benjamin
Hol
Elise
Nieuwerth
Maria
Faassen
Arno
Wildeman
Rob
Kraan
Peter J.
Ringoot
Jasper
Scherjon
Anja
Evers
Tom
Aarntzen
Chris
Anholts
Wesley
Plomp
Jelle
Van Heijningen
Evi
Leppen
Martin
Wil
Janssen
ter Harmsel
Jeroen
Emmens
Amber
Hogema
Thomas